Front Page
The first princess returns again – "Snow White and The Seven Dwarfs: Disney Signature Collection"
"SNOW WHITE AND THE SEVEN DWARFS: THE WALT DISNEY SIGNATURE COLLECTION"

Blu-ray full-frame, DVD full-frame, and Digital HD copy; 1937, G for everyone

Best extra: "In Walt's Words: Snow White and the Seven Dwarfs"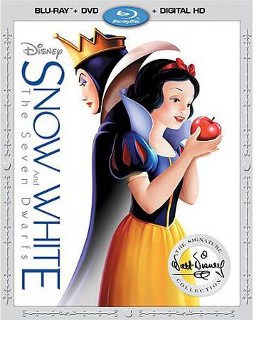 THE FILM that started the Disney Princess empire has found life again in a new Signature Collection.
"Snow White and the Seven Dwarfs" was the first ever, full-length animated film and the world's introduction to Walt Disney's creativity, artistry, and ambition. He took a huge gamble, risking everything, including his house, to make "Snow White." In the 1930s, Hollywood never believed audiences would sit through a feature-length animated film. The media at the time described it as "Disney's Folly," especially when the budget ballooned to $1.5 million. "As the budget climbed higher and higher, I began to have some doubts, too," Disney reveals during an audio recording on the disc.
Fast forward six months after the "Snow White" premiere, and he had paid off all his accrued debt while banking a couple of million from the film's success. "'Snow White' started a whole new era … I was able to build the studio with its profits," he says. Fans can browse the bonus features to further understand the enormous behind-the-scenes work and challenges that Disney and his team of animators overcame.
For the true fans who purchased the Diamond Edition in 2010, is this new version worth replacing?
The Signature Collection does include a new Digital HD copy which can be transferred to mobile devices or laptop. Still, the look and sound is the identical HD transfer from 2010, with beautiful bold colors and extraordinary detail. Voices come through clear and distinct, and the musical score is remarkably strong.
The Signature Collection does feature six new bonus extras, although they're pretty short. "Walt's Words: Snow White and the Seven Dwarfs," gives an interesting look into the making of the film from the archival audio recordings of a series of Disney interviews in 1956. "Iconography" has three artists from today, reflecting on "Snow White's" history and how it inspires them. "Designing Disney's First Princess" provides insight about how the character's design influenced future Disney female characters. "The Fairest Facts of Them All" features Sofia Carson from Disney's "Descendants," who reveals seven interesting facts surrounding the fairy tale's legacy. "Snow White in Seventy Seconds" is a hip-hop retelling of the story. There's also a rediscovered alternate sequence of the prince meeting Snow White.
Classic bonus features carried over from the 'Diamond' Edition include "Disney's First Feature: The Making of 'Snow White and the Seven Dwarfs'"; "Bringing Snow White to Life"; "Hyperion Studio Tour"; "Decoding the Exposure Sheet"; "Snow White Returns"; "Story Meetings: The Dwarfs and The Huntsman"; "Animation Voice Talent," two deleted scenes, and an audio commentary.
If you are not interested in the new extras, there is no reason to upgrade. On the other hand, if you missed the "Snow White" Diamond Edition, the Signature Collection deserves a place on your Disney shelf.
— Stacey Verblaauw